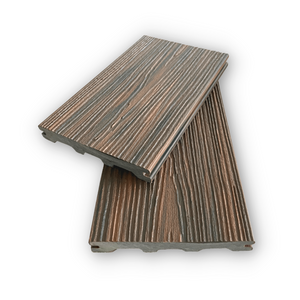 Who said synthetic wood decking couldn't look natural? Our Capped Composite Deck Boards are our long-standing best seller, with a sleek design and natural-looking wood grain that effortlessly lifts any outdoor space into the 21st century.
Made from 55% reclaimed wood fibres, bamboo and 45% recycled HDPE, our bespoke decking boards have a natural wood look and a hard-wearing finish, making them the ideal replacement for worn and outdated wood decks.
Better yet? Our bamboo - composite decking will not splinter, split or rot, making it the perfect surface for bare feet and children. Is your decking ready for summer?
 Product Specifications:
Size: [5800mm x 140mm x 22mm]
55% reclaimed wood fibres and 45% recycled HDPE.
Natural looking wood-grain finish in Antique Brown.
25-year limited warranty.
(Price shown above is Including Vat)