COMPOSITE WALL CLADDING SUPPLIER IN SOUTH AFRICA
At The Composite Company®, we understand the importance of creating a stylish, durable and long-lasting exterior for your home or building. That's why we offer a wide range of Wall Cladding products that are designed to meet the unique needs of homeowners and architects alike. Our innovative composite wall cladding products are redefining the home improvement industry by offering a superior alternative to traditional timber cladding.
Our Wall Cladding is made from a unique blend of recycled wood and plastic materials, making it both eco-friendly and cost-effective. Not only does it look and feel like real wood, but it is also waterproof, weatherproof and insect-resistant, ensuring that your home or building stays protected against the elements. This means that you can enjoy the look and feel of real wood without the hassle of maintenance, repairs and replacement. Our composite wall cladding is incredibly versatile, offering a range of colours, textures and finishes to suit any design aesthetic. Whether you prefer a classic, traditional look or a modern, contemporary feel, our wall cladding products can help you achieve your desired style. Plus, our easy installation process means that you can have your new exterior up and running in no time.
So why settle for less when it comes to your home or building's exterior? Choose The Composite Company® for high-quality, stylish and affordable wall cladding solutions that are designed to stand the test of time. Contact us today to learn more about our innovative composite wall cladding products and how they can transform your home or building's exterior.
ADVANCED INTERLOCKING WALL CLADDING PRICES (NATURAL WOOD-LOOK)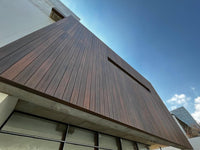 ATTRACTIVE & MAINTENANCE-FREE SOLUTION FOR EXTERIOR WALLS.
Composite Wall Cladding is the perfect solution for your home exterior walls. It's simple to install and easy to maintain, and it dramatically improves the look of your home. Composite Wall Cladding is made from a blend of materials, including wood, bamboo and plastic, so it's strong and durable. It's also weatherproof, so you can be sure your walls will be protected from the harsh outdoor elements.
Here are some benefits of using Composite Wall Cladding:
Durability: Composite Wall Cladding is resistant to rot, decay, and insect damage, which means it can withstand harsh weather conditions and retain its appearance for a long time.
Low maintenance: Composite Wall Cladding does not require painting or staining, and it is easy to clean and maintain. This makes it a good choice for busy homeowners who don't want to spend a lot of time on maintenance.
Attractive: Composite Wall Cladding is available in a wide range of colors and styles, so you can find a look that fits your home. It has a natural, wood-like appearance that many people find attractive.
Energy efficiency: Composite Wall Cladding can help insulate your home and reduce energy costs. It can keep your home cooler in the summer and warmer in the winter, which can save you money on heating and cooling bills.
Sustainable: Composite Wall Cladding is often made from recycled materials, which makes it an environmentally-friendly choice. It also requires less energy to produce than traditional building materials, which can reduce your carbon footprint.
Easy to install: Composite Wall Cladding is lightweight and easy to work with, which makes it a good choice for DIY projects. It can also be cut and shaped to fit around corners and other irregular surfaces, which makes it versatile and easy to install.
Overall, Composite Wall Cladding is a durable, low maintenance, and attractive building material that can provide many benefits for homeowners. It is a good choice for anyone looking to improve the appearance and energy efficiency of their home.
GET A FREE QUOTE TODAY!
Looking for some Composite materials to beautify your outdoor space? Look no further! At The Composite Company® we offer free quotes on all of our composite wood products. Whether you're looking for decking, cladding, or even a pergola, we'll find the perfect fit for you.