COMPOSITE WOOD DECKING SUPPLIER IN SOUTH AFRICA
The Composite Company® is a leading provider of high-quality composite wood decking solutions in South Africa. Our range of decking products is specifically designed to withstand the harsh outdoor elements and provide a long-lasting, low-maintenance solution for your outdoor living spaces. Our composite wood decking is a popular choice for homeowners looking for a durable and low-maintenance alternative to traditional timber decking. Unlike timber, our decking is resistant to rot, warping, and splintering, ensuring that it stays looking great for years to come. Additionally, our decking is slip-resistant, making it a safe choice for families with children and pets.
At The Composite Company®, we offer a wide range of decking options to suit every taste and budget. Our decking comes in a variety of colours and textures, ensuring that you can find the perfect match for your home's design aesthetic. Our team of experts can help you choose the right decking product for your needs and provide you with all the information you need to make an informed decision.
We pride ourselves on our exceptional customer service, ensuring that our clients receive a personalised and professional service from start to finish. We also provide installation services for our decking products, ensuring a hassle-free and professional installation process. In conclusion, if you're looking for high-quality, low-maintenance composite wood decking solutions in South Africa, look no further than The Composite Company®. Contact us today to learn more about our range of decking products and services.
WOOD GRAIN - COMPOSITE DECKING PRICES (FADE & STAIN RESISTANT)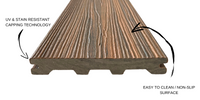 WITH OUR DECKING PRODUCTS, YOU GET THE BEST QUALITY, DURABILITY AND VARIETY AVAILABLE ON THE MARKET.
The Composite Company® is the perfect choice for anyone looking for an attractive, durable composite wood deck. We specialize in this type of decking, so we know what works best, and we have invested significantly in designing a product that combines the best in durability, performance and visual appeal. Plus, we offer convenient, fast delivery, and superior customer support.
Better yet? Our bamboo - composite decking will not splinter, split or rot, making it the perfect surface for bare feet and children. Is your decking ready for summer?
 Product Specifications:
- Size: [5800mm x 140mm x 22mm]
- 55% reclaimed wood fibres and 45% recycled HDPE.
- Natural looking wood-grain finish.
- 25 Year limited warranty.
GET A FREE QUOTE TODAY!
Looking for some Composite materials to beautify your outdoor space? Look no further! At The Composite Company® we offer free quotes on all of our composite wood products. Whether you're looking for decking, cladding, or even a pergola, we'll find the perfect fit for you.