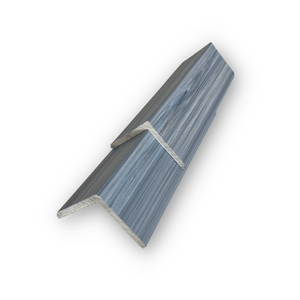 Got a rectangular deck in need of a refurb? Deck steps looking worse for wear? Chances are, you need some new corner decking – and our Wood Plastic Composite L-Shaped Corner Trims are the best out there.
Made from 55% reclaimed wood fibres and 45% recycled HDPE, our composite decking edging has a natural wood look and a hard-wearing finish, making it the ideal replacement for worn and outdated edges and trims.
Better yet? Our Composite L-Shaped Corner Trims will not splinter or rot, making them more durable and low-maintenance than traditional wood options. Give your deck edges and corners the attention they deserve!
Benefits of Composite Decking:
✔️ Better withstands the damaging effects of rain, wind and sunlight.
✔️ Longer lifespan than traditional wood decking with less maintenance required.
✔️ Composite decking boards won't splinter or rot.
✔️ Recycled decking boards save trees and protect the planet.
Product Specifications:
Size: [2900mm x 50mm x 50mm]
55% reclaimed wood fibres and 45% recycled HDPE
Natural looking wood-grain finish in Arctic Grey
(Price shown above is Including Vat)